Lessons
Since 1993, Malibu's Surf Shop has been offering private surf lessons for people of all ages and skill level. The lessons are offered every morning at 8 and 9am with occasional 5:30pm appointments.
Every instructor has been teaching lessons for a minimum of three years, with most having taught for more than five years. We all grew up on the beach in Ocean City and feel that private lessons are the only way to go and make sure that there are never more than two students per instructor.
Lessons are cash only, based on the number of students in the lesson, and are subject to weather conditions.
We also offer surfboard rentals.
Please call 410-289-3000 to book your lesson or rental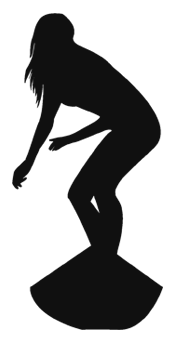 Rentals
Surfboards

$15/hour, $30/day and $20 from 5:30pm ´til dark.
Surf Instructors:
Wyatt Harrison

Wyatt is a 24 year-old manager at Malibu's. Growing up in Ocean City and surfing since age six, Wyatt surfed competitively on the east coast and abroad before traveling to San Diego to attend college. He has been working and teaching lessons at the shop since 2001 and has lived in Australia the last two winters.
JT Hazard

JT is a 24 year old manager at Malibu's. He started at the shop in 2002 and is one of the top instructors still here today. JT is team manager for our skate team as well as helping out at the skate park downtown. In the winters he has been travelling, working, and spending plenty of time in the water. In addition, he has been featured in local art shows, contributed to our Bastions of Surf clothing line, and has done many board paintings for local surfers.

Aviad Sasi

"The Aviad" is a 21 year old yoga conneiseur, stuntman, and scooter fanatic. He got his first lesson here when he was 6 and has been surfing ever since. Aviad also started working when he was 14 and has become an excellent surfer and instructor. You can see photos of him charging Hurricane surf here in town, refusing to wash his hair, or teaching 4 year olds how to surf! He plans to live in Florida this winter where he is working on becoming a certified bikram yoga instructor.

Andrew Mercier

Andrew is a 21 year old graduate of Flagler college in St. Augustine, Florida. He's surfed since age fourteen and has been working in the shop since 2004. He routinely goes to Nicaragua on surf trips and has been very involved in our blog, video edits, and Bastions of Surf line of clothing.

Roland Gerachis

Roland is a 17 year old senior at Worcester Preparatory School. Being the son of the owner (Lee), Roland has grown up on 8th street and surfed since he could walk. He has been doing lessons and working in the shop for a few years now and is quickly becoming one of the areas best longboarders. He plans to finish up school next year and attend college somewhere where he can surf!

Corey Brown

Corey is a 21 year old senior at Flagler College. He has grown up in Ocean City and started surfing at age 8. Corey has also been around Malibu's all his life and started working here in 2005. He is one of our most animated instructors and truly loves teaching, although he has been recovering from a freak piggy-back riding accident. After he finishes school he plans on launching an all-emu clothing line.

Austin "Cookie" Cook

"Cookie" is a 20 year old junior at the College of Charleston in South Carolina. After growing up on the beach at 8th street, Austin began working at the shop in 2006 and began giving lessons a couple years after. In addition to surfing, Cookie has a strong passion for playing music. This winter he plans to surf, study, and hopefully get some traveling in.

Austin Gerachis

Austin is an 19 year old sophomore at High Point University. Growing up being the son of Lee has also seen him in the water since he could walk and he's been working in the shop for the last few years. Austin is a great surfer and one of the better skaters in the area. Austin has also been published in various publications . . . He plans to study Business Management at High Point and hopefully play lacrosse on their new D1 team.

Woody Harrington

Woody is a 21 year old graduate of the Tyler School of Art in Philadelphia. His days of hanging around the shopped turned into working here when he was fourteen, and a few years later started giving surf lessons. After doing a semester in Rome last year, he has finished his major of Graphic Design and continues applying what he has learned to the art and design field. Woody has been the designer behind many of our shirts, including the Journey is the Reward, our contest tee, and the skull monkey among others.